SIMPLIFY YOUR EVENT SCORE TRACKING. BROADCAST BEAUTIFUL LEADERBOARDS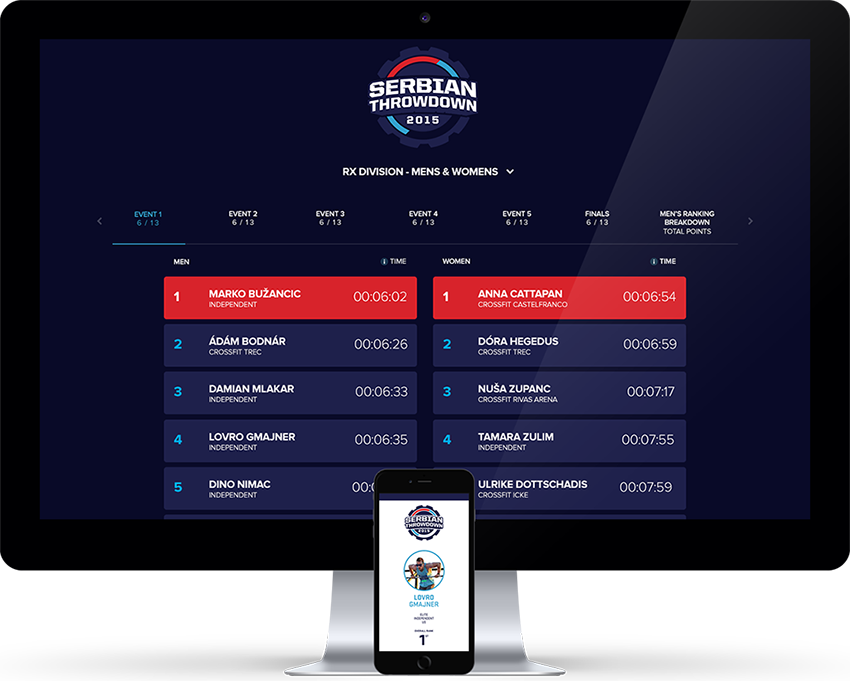 The most complex task when planning a competition is making sure scores are accurate and quickly sharing them with your spectators. Say goodbye to confusing spreadsheets and print outs. We'll set you up with event management tools tailored to your scoring, brand and marketing needs.
Athletes from anywhere in the world can compete online in weekly-released events. Score submissions, judging and approvals occur virtually. Then invite the top-ranked to compete in the championship throwdown.
Register athletes and spectators online with a fully-branded experience. Registration is integrated with our scoring platform so that registered athletes are seamlessly imported into your leaderboards.
Goodbye complicated spreadsheets and crazy formulas! With your own scoring dashboard, you'll be able to efficiently score athletes and update live leaderboards on the fly. We make your scorekeeper's life easier.
PROFESSIONALLY BRANDED LEADERBOARDS
Give us your logo and colors and we'll take the time to customize your leaderboards so they make your brand identity shine. Leaderboards are built to support viewing on TVs, laptops and mobile devices.
CUSTOM-DESIGNED SCORE CARDS
Don't forget about the judges! Make their lives easier with score cards designed for efficiency. Our dedicated designer will consider all the details and brand all score cards with your logo and colors.
FREE PERSONAL SETUP AND SUPPORT
Our dedicated team is here for you every step of the way. We'll gather your details and set up your scoring and leaderboards ahead of time to make sure you're ready for the big day. Consider us your partners in crime!